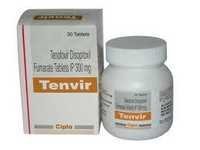 Tenvir Tablets
Product Description
Tenofovir disoproxil fumarate (a prodrug of tenofovir) which is a fumaric corrosive salt of bis-isopropoxycarbonyloxymethyl ester subordinate of tenofovir. In vivo tenofovir disoproxil fumarate is changed over to tenofovir, a non-cyclic nucleoside phosphonate (nucleotide) simple of adenosine 5′-monophosphate. Tenofovir displays movement against HIV-1 switch transcriptase. It is shown in blend with other antiretroviral specialists for the treatment of HIV-1 disease in grown-ups and pediatric patients 2 years old and more established. It is additionally shown for the treatment of endless hepatitis B in grown-ups and pediatric patients 12 years old and more established.
India has numerous producers who make Tenofovir disoproxil. To know more reach us.
3s partnership is Exporter, Supplier, Wholesaler for Tenofovir disoproxil in India.
Additional information :
Prescribed Dose in Adults and Pediatric Patients 12 Years of Age and Older (35 kg or more)
For the treatment of HIV-1 or interminable hepatitis B: The measurement is one 300 mg once every day taken orally, without respect to nourishment.
For patients unfit to swallow tablets, the oral powder detailing (7.5 scoops) might be utilized.
In the treatment of interminable hepatitis B, the ideal length of treatment is obscure. Wellbeing and adequacy in pediatric patients with constant hepatitis B weighing under 35 kg have not been built up.
Indications :
Get crisis therapeutic help if understanding have any of these indications of a hypersensitive response:

Hives;
Trouble relaxing;
Swelling of your face, lips, tongue, or throat.
This medicine may cause lactic acidosis (a development of lactic corrosive in the body, which can be lethal). Lactic acidosis can begin gradually and deteriorate over time.Get crisis medicinal help if even gentle manifestations of lactic acidosis occures, for example, muscle agony or shortcoming, numb or cool feeling in your arms and legs, inconvenience breathing, stomach torment, queasiness with spewing, quick or uneven heart rate, dazedness