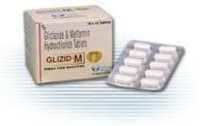 Glizid M Tablet
Product Description
Gliclazide 80 mg:
Sign : Diabetes mellitus type-ii, Softening and dilatation of cervix prior to mechanical cervical dilatation and Maturity beginning diabetes.
Metformin 500 mg:
Sign: Diabetes mellitus, Insulin subordinate diabetes mellitus, Hyperlipoproteinaemia, Non-insulin subordinate diabetes mellitus, Insulin obstruction, Obesity.

Brand Name: Glizid-M
Substance: Gliclazide 80mg metformin hydrochloride 500 mg. Tablets
Frame: Tablets
Made By: Panacea Biotech
Packaging : Price per tablet
Symptom
Looseness of the bowels, vomit and contamination, migraine and disease, Indigestion and sickness, Nose irritation, Dermatological responses, GI manifestations, Hypoglycemia, Cerebral edema, Brain damage, Dizziness, Headache, Nausea, Skin rashes.