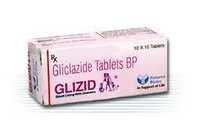 Glizid (Gliclazide) Tablets
Product Description
Glizid (Gliclazide) Tablet from Panacea is utilized to enable control to glucose levels in individuals with type 2 diabetes. This prescription is endorsed when glucose levels can't be controlled by eating regimen, exercise, and weight reduction measures alone. Available in 40 and 80 mg measurements.

Brand Name: Glizid
Substance: Gliclazide
Available In: 40mg/80mg
Fabricated By: Panacea Biotech
Other Trade Names: Glyloc, Reclide, Glizid, Glubitor-OD, Diamicron MR, Clizid.